Practical cases:
1. When insert the memory card to digital camera, it pops up "memory card error" and you are unable to take or show photos any more.
2. While transfer the photos to computer, The PC said it is unable to download anymore due to an error. When you put the card back into the camera, it says "memory card error" on a black screen and nothing else
Other common memory card error messages are "card error", "the card can not be used", "Read error/write error", "can not initialized" etc.
How to solve the problem?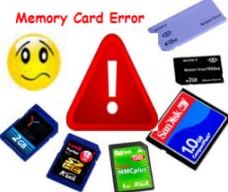 If you do have important data on the card, stop doing anything on your camera's card (do not format the card or take any more photos), you have to undertake the photo recovery first. There are many tools can help you. For example: Card Data Recovery for Windows (for Windows Users) or Card Data Recovery for Mac (for Mac Users).
Connect the digital camera to PC to see whether it can be detected by PC with drive letter or not. If it is, use the photo recovery software to scan your memory card and get back the valuable data. If not, take out the memory card and connect it to PC with a card reader and then use the program to scan the memory card and retrieve data. After getting back the precious data, you can format the memory card according your camera manual. If the card can't be formatted, try other available memory card in your hand to see whether it has the same scenario. If the card does not display a "memory card error", then the precious one is at fault. And you may have to buy other new card.
If the data in the memory card is not vital for you, you can directly format it as the above stated.
Note: You had better replace the frequently and long-time used memory cards with new ones for all typical memory cards have a finite lifespan, approximately 10,000 write/erase operations.The older ones are easier to get error.